UNIFORM MARKET IN JAPAN - RESEARCH FINDINGS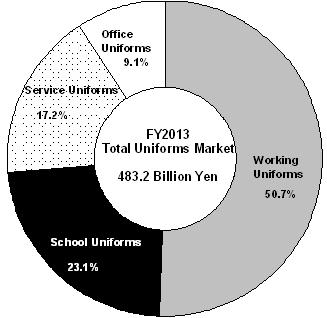 Key Findings
"Size of Uniform Market in FY2013 Reached 483.2 Billion Yen, 101.4% on Y-o-Y Basis .The domestic uniform market in FY2013 based on the shipment value from manufacturers attained 483.2 billion yen, 101.4% of the size in the previous year. Office uniforms and school uniforms that used to be on the decline until recently shifted to a slight increase in FY2013, and led to a positive growth in all the categories including working and service uniforms.
"
After Demands for Working Uniforms Settled Down, Favorable Sales of "Omotenashi"
Wear in Office Uniforms Contribute in Market Recovery
Although working uniforms demands settled down from temporary increase that occurred right after the earthquake damage, the current good news is the long awaited positive growth attained by the category of office uniforms in FY2013, seemingly recovered from lingering recession. Despite that the conventional uniforms for office workers are still decreasing, the entire uniform market has been supported by the increasing demands for "Omotenashi" wear that belongs to the office uniforms category and that are worn to serve or wait on customers. The continuous growth can also be expected in the uniforms for medical and long-term care services, and for food factories, etc.
In addition, the working uniforms are promising especially in the locations close to Tokyo, due to adoption for Tokyo Olympics, boding well for the entire uniform market.